Are you ready to take your Delta-8 THC experience to the next level? Dive into the world of the strongest, most potent Delta-8 flowers in the hemp industry and discover how they can elevate your smoking sessions like never before.
We've done all the legwork for you – meticulously researching and testing 31 strains from reputable brands to bring you the best Delta-8 flowers. Each is perfect for sleep, stress, and pain relief.
Unleash your inner cannabis connoisseur as we guide you through this fascinating journey with innovative products from BiowellnessX, Hometown Hero, Highly Concentr8ed, Fern Valley Farms, Hi On Nature, Botany Farms, and Delta Extrax.
Feel a sense of belonging in this exclusive community of Delta-8 enthusiasts as we unveil these powerhouse strains that will change how you view hemp-derived highs.
With their potent effects and incredible benefits, it's no wonder Delta-8 flowers have gained immense popularity among cannabis aficionados seeking something unique yet practical.
So, sit back, relax (let's face it – that's what Delta-8 is all about), and join us in exploring these unrivaled options that promise an unparalleled smoking experience every time.
Don't just settle for any ordinary flower; discover the strongest Delta-8 THC flowers available today!
Main Key Points
Only the best companies offer products that undergo third-party laboratory testing.
Delta-8 THC flower has a mellower impact than conventional THC.
Positive reviews are critical when finding the best brands.
With the number of fraudulent brands, finding good quality Delta-8 THC flower becomes more challenging.
Strongest Delta-8 Flowers – Top 7 Delta-8 Strains
Discover the strongest Delta-8 THC flowers with Highly Concentrated Delta-8 Moon Rocks, Hi On Nature Delta-8 Flower, and Delta Extrax Pre-Rolls Infused Liquid Diamonds. Explore the visionary world of Delta-8 THC flowers and elevate your senses to new heights in this ever-evolving market.
Let's dive straight into the different brands and explore the pro and cons.
Highly Concentr8ed Delta-8 Moon Rocks
Looking into Highly Concentr8ed's Delta-8 Moon Rocks and experience a new level of potency and power that'll take your smoking sessions to unimaginable heights. With their unique layering process, they drench CBG flower in Delta-8 distillate and then coat it with CBG kief, creating an intense 45% Delta-8 THC experience.
This guarantees a powerful effect and ensures that the flower is never sprayed with Delta-8 and always dipped in the extract for maximum quality. It's a different approach that offers a potent euphoric feeling while still staying true to the flower.
As you enjoy the fantastic smells and tastes of Highly Concentr8ed's Delta-8 Moon Rocks, you'll feel calmer and less stressed. The affordable pricing makes it accessible for anyone seeking a highly potent smoking experience without breaking the bank. So why wait? Treat yourself to Highly Concentr8ed's Delta-8 Moon Rocks today and elevate your senses like never before.
Product Specs:
Contains 45% Delta-8 THC (around 1500 mg per eighth)
Available in 7g, 14g, and 24g jars
Dipped in Delta-8 distillate for optimal quality
Pros:
Extremely potent at 45% Delta-8 THC
Affordable pricing ($29.99 for 7 grams)
Great smells and tastes
Calming effects on users
The flower is dipped instead of sprayed
Reputable brand
Cons:
Lab tests don't include pesticide or heavy metal testing (view COA)
A very sticky texture can be challenging to work with
It can be harsh when smoked
It only offers moon rocks, not regular Delta-8 flower
Limited refund policy; no returns accepted
Hi, On Nature Delta-8 Flower
Hi On Nature's got you covered with their high-quality, small-batch selection that'll leave you feeling relaxed and rejuvenated.
With three classic strains – Gushers, Northern Lights, and Sour Glue – these flowers are infused with 16% Delta-8 THC and 24% CBD to provide a balanced effect for both body and mind. Say goodbye to overwhelming strain choices and hello to simplicity; this company focuses on delivering reliable results rather than leaving you lost in a sea of options.
Whether you're new to the world of Delta-8 or an experienced user looking for something different, Hi On Nature's Delta-8 Flower is an excellent choice. Their commitment to quality ensures that your experience will be enjoyable from start to finish. Plus, they offer both flower jars and pre-rolls for added convenience!
No matter what type of relief or relaxation you seek, Hi On Nature has curated a collection that caters to your needs while maintaining affordability at just $30 per eighth.
Product Specs:
Strains Offered: Gushers, Northern Lights, Sour Glue
Infused with 16% Delta-8 THC and 24% CBD
Available in flower jars (3.5g) and pre-roll options
Pros:
High-quality small-batch selection
Great for beginners as well as seasoned users
Offers balanced effects due to indica/sativa genetics
Convenient option of purchasing pre-rolls
Cons:
Not the highest concentration of Delta-8 flowers available
Limited strain variety (only 3)
No larger size options or bulk discounts
Delta Extrax Pre-Rolls Infused Liquid Diamonds
Looking for a seriously potent yet deliciously flavorful pre-roll to elevate your smoking experience? Check out Delta Extrax's Liquid Diamond-infused joints that'll knock your socks off while leaving you craving more.
These powerful pre-rolls come coated with a unique blend of Delta-8, Delta-10, and THC-O distillate oil known as Liquid Diamonds, then rolled in kief for an extra layer of potency. The result is an incredibly strong and tasty smoke perfect for experienced users seeking new heights in the world of Delta-8 flowers.
Delta Extrax's Liquid Diamond pre-rolls are not only potent but also convenient and well-crafted.
The five-pack of half-gram infused joints are available at just $27.99, offering an excellent value for those who want to try multiple strains without breaking the bank. Choose from five tantalizing options: Grape Ape, Legend OG, Sour Lifter, Strawberry Cough, or White OG Kush – each delivering smooth hits bursting with flavor.
Plus, they're all packaged in child-resistant and smell-proof containers so you can enjoy them discreetly and responsibly.
Product specs:
A potent blend of Delta-8, Delta-10 & THC-O distillate oil (Liquid Diamonds) hand-painted on each joint
Rolled in kief for added potency
Available in 5 strains: Grape Ape, Legend OG, Sour Lifter, Strawberry Cough & White OG Kush
Pros:
It uses a potent combination of cannabinoids to deliver a powerful smoking experience
5-pack bundle available at an affordable price ($27.99)
Smooth hits packed with flavor from various strain options
No canoeing or burning issues during use
Child-resistant & smell-proof packaging
Great brand reputation
No harmful chemicals
Cons:
No COAs provided specifically for these pre-roll products
Only offers half-gram joints instead of full-gram sizes
Infused with other cannabinoids, meaning it's not purely delta-8 based
Delta Extrax doesn't offer flower options; only pre-rolls
Exhale Wellness
If you're hunting for top-notch Delta-8 flower, look no further than Exhale Wellness, your one-stop shop for an array of high-quality products that'll have you walking on cloud nine.
This well-known brand is renowned for its exceptional customer service and dedication to providing only the finest natural ingredients in its assortment of Delta-8 flowers, vapes, tinctures, and gummies.
With a 30-day money-back guarantee and free shipping on all orders, it's clear that Exhale Wellness believes in its products and values its customers' satisfaction above all else.
When you choose Exhale Wellness as your go-to source for Delta-8 flowers, you're investing in a company that is transparent about its manufacturing methods and uses only the best American-grown hemp.
By subjecting their products to independent lab testing, they ensure that each puff will be smooth and enjoyable while delivering the desired effects.
Whether you're new to Delta-8 or a seasoned connoisseur looking to explore various strains like OG Kush or Sour Diesel, there's something for everyone at Exhale Wellness.
Product Specs:
Delta-8 flowers are available in 10 different flavors
A variety of sizes is provided, with smaller bags available for those wanting smaller quantities
Selection of different Delta-8 THC concentrations
Pros:
Exceptional customer service with rave reviews from satisfied clients
Wide range of high-quality product offerings, including vapes, tinctures & gummies
Transparent manufacturing process using only premium hemp sourced from within the United States
Third-party lab tests
Cons:
Some may find certain strains too potent if they are not experienced with cannabis use
Limited international shipping options may exclude some potential customers outside of the US
The price point can be considered higher than other competing brands
Bud Pop
Ready to experience the coolest new brand in the Delta-8 industry? Meet Bud Pop, your reliable pal for top-notch products and a hassle-free shopping experience.
Founded by a team of cannabis enthusiasts and experts, Bud Pop is on a mission to provide natural alternatives to conventional pharmaceuticals and cannabis that help you unwind without compromising your health. With their commitment to organic hemp cultivation, pure extraction techniques, and safe Delta-8 production, you can trust that every product from Bud Pop is made with care and dedication.
Navigating through Bud Pop's user-friendly website is a breeze, making finding exactly what you need easy. Each product page showcases third-party lab results and detailed information about the item. Plus, with free shipping on all orders and secure delivery options available, there's no reason not to try this innovative brand!
Product Specs:
100% organic and natural hemp plants
Grown in Nevada following federal guidelines
Delta-8 THC content below 0.3%
FDA-approved processing facilities
Pros:
Transparent production methods ensure high-quality products
Third-party lab testing for purity and reliability
User-friendly website for easy navigation
Free shipping on all orders
Cons:
Limited product range due to being a relatively new company; brand reputation could be better for that reason.
No money-back guarantee offered
Blue Moon Hemp
At Blue Moon Hemp, you'll find premium cannabis flowers and top-quality hemp products that focus on enhancing your overall well-being. Their high CBD and CBG strains provide potential benefits such as pain management, improved mood, and better sleep patterns without giving you a 'stoned' feeling.
All of their hemp plants are organically grown, vegan-friendly, and GMO-free to ensure the purest product possible for your consumption.
One of the best Delta-8 flowers offered by Blue Moon Hemp is the Cowdaddy Crush. It contains less than 0.3% Delta-8 THC and boasts a high CBG content for non-psychoactive effects.
Additionally, Blue Moon Hemp values its customers by offering a rewards system where you can earn 'Moon Bucks' with every purchase to redeem later on future orders. They also show appreciation for military personnel and first responders by providing them with an impressive 35% discount.
Product Specs:
Organically-grown hemp flower
High CBD/CBG strains
Less than 0.3% Delta-8 THC in Cowdaddy Crush
Pros:
Made in the U.S.
Military and first responders discount (35%)
Earn "Moon Bucks" with every purchase
Third-party lab tests
Cons:
Fewer reviews compared to our top picks
Hollyweed CBD
Hollyweed CBD bursts onto the scene with top-notch Delta-8 flower strains and a commitment to quality, ensuring a smooth experience for every consumer. They create products that can help you relax and decompress in no time by using only organic hemp flowers and infusing them with the best Delta-8 distillates available.
With transparent manufacturing methods, third-party testing, and user convenience at the forefront of their business model, it's easy to see why Hollyweed CBD has quickly become a go-to brand for consumers seeking high-quality Delta-8 THC flowers.
Pros:
Strict production and selection standards ensure high-quality products
Transparent manufacturing methods backed by FDA-approved facilities
User-friendly website design simplifies the shopping experience
No harmful chemicals
Satisfied customers
Brand Transparency
Excellent customer service
Cons:
Limited strain options compared to some competitors
Only offers two package sizes (could be limiting for those looking for smaller or larger quantities)
As you navigate through their sleek and user-friendly website, you'll find direct links to purchase their products alongside detailed information about ingredients and certificates of analysis. Their natural hybrid strains are available in 3.5-gram and 7-gram packages, making it simple to find the perfect amount for your needs. And as a bonus, they offer free shipping on all orders and a risk-free return policy within 30 days should you need one.
Product Specs:
Organic hemp flowers infused with premium Delta-8 distillates
Available in two sizes: 3.5 grams or 7 grams
Less than 0.3% THC content
need more information about What Delta-8 THC is and can offer you? Keep reading.
What is Hemp-Derived Delta-8?
You might wonder what hemp-derived Delta-8 is and how it may differ from other cannabis products. Hemp-derived Delta-8 THC is a minor cannabinoid found in the hemp plant. It has gained popularity for its unique psychoactive effects that are milder than Delta-9 THC, the primary psychoactive compound found in marijuana.
Delta-8 is extracted from hemp plants and then infused into various products such as tinctures, edibles, and even high-quality hemp flowers to provide a more balanced and less anxiety-inducing high than traditional marijuana. This allows users to enjoy the therapeutic benefits of cannabis without experiencing overwhelming or uncomfortable side effects.
Hemp-derived Delta-8 is an innovative option for those looking to explore the world of cannabis while seeking a sense of belonging among fellow enthusiasts who appreciate its subtle yet powerful effects. As more people become aware of this lesser-known cannabinoid and its potential benefits, it's essential to stay informed about the best options available on the market.
By trying out different potent Delta-8 THC flower strains like those mentioned above, you'll be able to find one that suits your preferences and needs.
What are the benefits of using D8 THC?
Delta-8 THC can be a game changer for your well-being, providing numerous health benefits.
Experience pain relief and anti-inflammation properties that can soothe discomfort and alleviate chronic pain without the intense psychoactive effects of Delta-9 THC.
Delta-8 also offers anti-anxiety and stress relief elements to help you unwind after a long day and improve sleep quality and duration – making sure that you wake up feeling calm, refreshed, and rejuvenated each and every morning.
Pain Relief & Anti-Inflammation
Finding the right Delta-8 flower can make all the difference in your well-being when it comes to pain relief and reducing inflammation. With various strains available, choosing one that works best for your needs is essential.
The strongest and best Delta-8 flower provides a powerful option for combating discomfort and easing symptoms associated with inflammation. To help you find the best Delta flower strain for pain relief and anti-inflammation, consider these Delta heavy hitters:
Sour Space Candy: Known for its uplifting effects and ability to combat stress, this hemp flower is also an excellent choice for those seeking relief from chronic pain or inflammation.
Most Potent Delta Flower: Selecting a potent strain like Hometown Hero's Raygun or Fern Valley Farms' Sour Special Sauce ensures optimal results when dealing with severe discomfort.
CBG-rich strains: Research has shown that cannabigerol (CBG) possesses promising anti-inflammatory properties; opting for strains with higher CBG content may enhance your overall experience.
By experimenting with various options and finding the most effective strain tailored to your specific needs, you'll be on track towards achieving a greater sense of belonging within yourself – knowing you're taking control of your health by discovering the finest Delta-8 flowers available.
So, breathe easy knowing that Nature provides some powerful allies in managing your pain and inflammation through these remarkable hemp flowers.
Anti-Anxiety & Stress Relief
Finding relief from anxiety and stress can be a game-changer, and the right Delta-8 flower strains are ready to help you tackle those challenges head-on. With the strongest Delta flowers in your arsenal, you'll discover that not all hemp plants are created equal. Some of these powerful strains can provide surprisingly potent effects that rival traditional marijuana yet remain legal and accessible.
By choosing high-quality hemp products infused with Delta-8 THC, you'll experience an entourage effect with other cannabinoids like CBD and CBG working together to put your mind at ease. When seeking anti-anxiety solutions, please don't settle for anything less than organic hemp flowers.
As part of an innovative community focused on natural wellness, you deserve only the finest ingredients crafted into exceptional Delta-8 THC products. Join countless others who have found solace in these visionary strains and relax with one of the strongest Delta flowers available.
Say goodbye to overwhelming stress from everyday life and hello to serenity as each puff transports you towards a State of tranquility where worries melt away like wisps of smoke in the wind. Embrace this opportunity for belonging within a growing movement dedicated to harnessing the power of hemp plants for holistic well-being – let these unparalleled Delta THC flowers guide your journey towards inner peace.
Improved Sleep Quality & Duration
Experience restful nights and wake up refreshed with top-quality Delta-8 THC-infused hemp flowers that can significantly improve your sleep quality and duration. This strongest Delta drops work wonders in providing a peaceful slumber as they harness the power of carefully selected hemp flower strains known for their relaxing effects.
With the indica dominant strain taking center stage, you'll ease into a night of serenity as high-quality hemp flowers work their magic on your mind and body. As you explore the world of Delta-8 THC flowers, remember that finding the right strain is key to unlocking an improved sleep quality.
The perfect blend of cannabinoids will help lull you into a deep and rejuvenating rest, ensuring that every night feels like a well-deserved break from the chaos of daily life. So go ahead – indulge in these indica and sativa strains designed to help you drift off effortlessly into dreamland, all while feeling connected to Nature's powerful remedies.
Your journey towards better sleep starts with embracing the healing potential found within Delta-8-infused hemp flowers – don't wait any longer to experience this transformative effect for yourself!
3 Things to Look For in High-Quality Delta-8 Flowers
As you search for top-notch Delta-8 flowers, it's essential to know what factors make them stand out from the rest and deliver a truly exceptional experience.
High-quality Delta-8 flowers come from reputable brands that prioritize transparency, quality control, and customer satisfaction. When shopping for these potent hemp plant derivatives, consider the following aspects:
Purity and Potency:
Check for third-party lab testing results that verify the product contains the advertised levels of Delta-8 THC
Look for products with a balance of cannabinoids and terpenes to enhance the entourage effect
As an informed consumer in today's cannabis market, you'll want to align yourself with brands that invest in research, innovation, and sustainability.
By choosing high-quality Delta-8 flowers from top brands dedicated to providing safe, effective products backed by science and ethical practices, you can enjoy a powerful sense of belonging within this vibrant community while experiencing the best this remarkable compound offers.
What other Delta-8 THC products are available?
Dive into the awesome world of Delta-8 THC, where a treasure trove of delightful products like aromatic vape pens, mouthwatering gummies, and potent tinctures await your exploration. The cannabis industry is constantly evolving with new and innovative ways to enjoy the benefits of Delta-8 THC, including some of the strongest Delta-8 THC flowers available. Whether you're an experienced user or looking for an introduction to this powerful cannabinoid, finding high-quality hemp products can help you experience its full potential.
| Product Type | Features |
| --- | --- |
| Organic Delta-8 Gummies | Delicious all-natural flavors; easy-to-dose |
| Delta-8 Vape Pens | Aromatic and discreet; no combustion byproducts |
| Concentrates | Highly potent extracts for dabbing or vaping |
| Combo Packs | Variety packs for exploring different strains and experiences |
| Delta-8 Tinctures | Fast-absorbing sublingual drops for quick effects |
As you navigate the bustling market of available products in search of the strongest Delta-8 THC flowers and other unique offerings, remember to prioritize hemp quality above all else. The best Delta-8 THC products get derived from high-quality hybrid strains that have been carefully grown using sustainable practices.
Experiment with different formulas, like Delta-8 THC with CBN or our more cognitive THCp gummies with THCP.
Looking for another more clean option when it comes to flower? Check out our THCa Flower options.
By supporting companies that prioritize responsible farming methods and clean extraction processes, you are not only contributing to a better cannabis industry but also ensure that you get effective results while experiencing a sense of belonging within this vibrant community. So go ahead – explore new Delta-8 THC products today!
Final Thoughts: Strongest Delta-8 THC Flower
Step up your smoking sessions with the sublime strains of Delta-8 THC flowers we've showcased.
By doing so, you may finally find relief from stress, slumber soundly, and soothe soreness with natural and superior smokes if it's Delta-8 THC flower you are looking for.
Thanks for reading.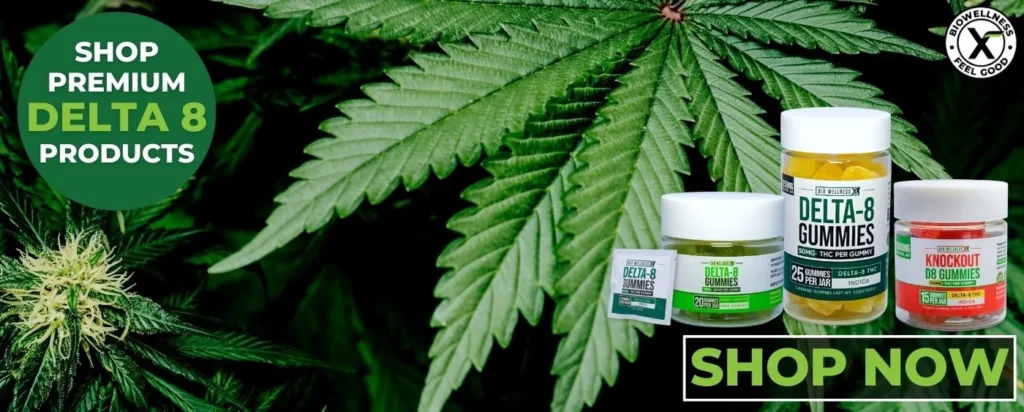 Legal Disclaimer:
By reading this information presented, you agree to release the author of any liability that comes from using this data. This post contains no legal advice. Claims about cannabinoids have not yet been approved by the FDA. Read the full legal disclaimer here.
Other Articles About Delta-8 THC
References:
FAQs About Potent Delta-8 Flower Strains
What is CBD Flower?
The hemp plant produces CBD flowers. Hemp is a cannabis plant that contains very high amounts of cannabidiol (CBD), a cannabinoid essential to a person's general wellness. Often confused with marijuana, hemp plants contain 0.3% or less Delta-9 THC.
Can you tell whether Delta-8 THC is in your system?
Yes, unfortunately. While Delta-8 THC is lawful and federally legal, a drug test will detect it. Avoid using Delta-8 products if you have a drug test in the next few days. Instead, opt for zero-THC options like broad-spectrum CBD products.
What is the best strain of D8 hemp flower?
Every person will have a different answer. Cannabis enjoyment is largely personal. In terms of quality however, Sour Space Candy comes in at numero uno. The Sour Space Candy D8 infused hemp flower has a unique and extremely delicious flavor that's rare to find.
What other options are there for hemp flower?
The cannabis market is constantly evolving. Today, there's Delta-8 flower, wholesale THCA flower (that converts to pure THC), and even some Delta-10 flower options. Keep an eye out for future products like THCp flower, HHC flower, and Delta-11 flower.