West Virginia recently gave into industrial hemp. You might be scouring the internet to find out if Delta 8 is available to you with the recent law changes.
You're in luck. This blog's got everything you should know so you can guarantee yourself access to quality and legal hemp in West Virginia.
Main Keypoints
Hemp is federally legal, but individual State hemp laws vary.
Hemp-derived cannabinoids such as Delta-8 are legal in West Virginia as the State did legalize hemp plants.
Industrial hemp research shows that hemp-derived products can have dispensary-grade potency.
Studies show that Delta-8 has many potential benefits, such as pain and anxiety relief.
Medical marijuana is currently legal in West Virginia.
Qualifying medical needs can help you apply for a medical card in West Virginia.
Delta-8 serves as a great, easily accessible alternative to medical marijuana.
There are up-and-coming medical shops available in West Virginia, but an even larger market for Delta-8 and other hemp products is available online!
Is Delta 8 Legal in West Virginia?
Delta 8 THC is legal in West Virginia! There are some hoops to navigate through, but we've got the winning details here.
The Federal Law on Delta 8 THC
The federal law ensures that hemp plant material and all products made of such plant are federally legal!
The 2018 Farm Bill removed the plant Cannabis sativa L. (AKA industrial hemp), which contains less than 0.3% Delta-9 THC, from the controlled substances list.
All products made by processing hemp plants, such as Delta-8 products, are now legal for commercial sale and for everyone to enjoy without needing a medical card.
What is Delta 8 THC?
Delta-8 is a cannabinoid found in cannabis plants but in tiny amounts with many health benefits. Delta 8 is a sibling cannabinoid to Delta 9 (THC) and the less potent Delta 10. Overall, these products are known to have psychoactive effects that can vary by tolerance, health, and other factors.
Benefits Of Delta-8
The research into this miraculous cannabinoid is still relatively new, but from what we know so far, Delta-8 can help:
Control nausea and vomiting
Reduce chronic pain
Alleviate anxiety
Provide a relaxing euphoria
Improve sleep quality
What Can I Expect When Buying Delta 8 THC in West Virginia?
Any shop operating legally in West Virginia may require you to present them your medical card, a current form of identification; that's why it's best to shop Delta-8 online for better quality and even lower prices.
Where To Purchase Delta 8 THC in WV?
Here are some of the most popular cities available to you:
(If you're not exactly local to these major cities, don't worry. We've got you covered for that too!)
Charleston
Morgantown
Huntington
Parkersburg
Weirton
Wheeling
Martinsburg
Fairmont
Clarksburg
Beckley
Shop Delta-8 Online In WV
If you're out of the way or can't find a shop you like, consider shopping directly from the source online. There's something for everyone!
Which Types of Delta 8 Products Can I Buy Online In West Virginia?
Before buying any Delta-8 products online, make sure they're "hemp defined," meaning that they're sourced from hemp to stay legal.
Delta 8 products are anything but ordinary; the options below are a great start to exploring which Delta 8 variety suits your lifestyle the best so you feel good.
Smokables
These babies will give you more than the zoomies.
Delta 8 Disposable Vape – rechargeable, cough-free, made with THC oil and natural cannabis terpenes found in the cannabis plant. Oh, not to mention the mouthwatering flavors!
Delta 8 Cigarettes – made with hemp flower and kief blend, no tobacco or nicotine, and again amazing flavor combinations.
Tinctures
For the calm and relaxed type, looking for the next best thing.
Delta 8 Tincture with Hemp Oil– infused with PCR hemp oil, perfect for your next relaxation session.
Soft Gels
For those who wanna enjoy some Delta 8 THC without worrying about their diet needs.
Delta 8 Soft Gels – vegan-made and sugar-free, so they're great for any diet.
Gummies
The perfectly sized snack! With plenty to share with a friend or not.
Delta 8 Gummies – a top seller, and for a good reason! Available in a variety of portions, flavors, and Delta options.
Marijuana for Medical Use in WV
Folks that still prefer MJ over cannabinoids may be in better luck in West Virginia. These conditions might deem you as a qualifying patient giving you access to a medical card for 100% legal medical cannabis purchases.
Unfortunately, these cards must be renewed for a fee of anywhere between $50 to $150 each year. However! Delta-8 products don't require a medical card and come with dispensary-grade potency if you wanna skip that renewal.
Marijuana for Recreational Use
Unlike the sister State of Virginia, West Virginia currently forbids recreational cannabis and only allows medical marijuana. But remember, all products derived from hemp plant parts, such as Delta-8 THC, are no longer classified under the Controlled Substance Act. Thus, you can enjoy them legally for medical and rec uses.
Final Thoughts – Is Delta 8 Legal in West Virginia?
The West Virginia cannabis industry is making waves! Delta 8 THC is legal in WV for both medical and rec uses. After all, it comes from legal hemp and contains federally compliant Delta-9 THC levels like quality Delta-8 products would.
If you wanna get your hands on some quality Delta-8 products, consider shopping online with us for exclusive deals, hassle-free deliveries, and upfront product information. There are plenty of Delta 8 THC products to go with every preference.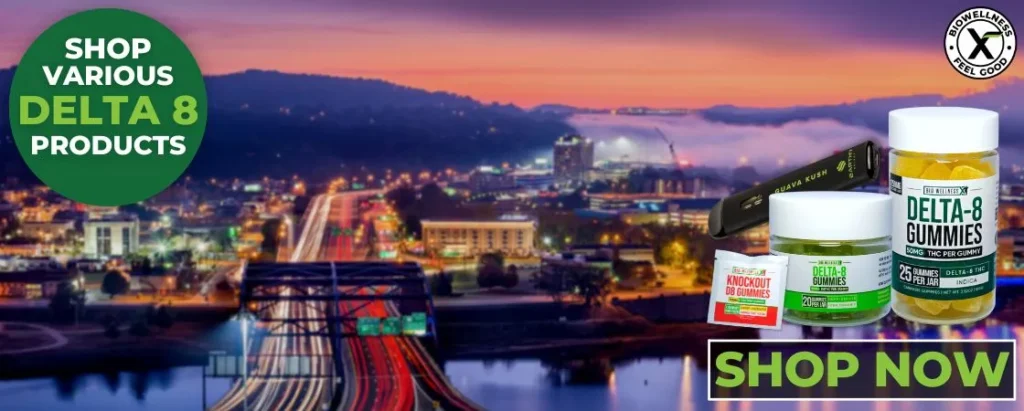 Related Articles:

References:
Legal Disclaimer:
By reading this information presented, you agree to release the author of any liability that comes from using this data. This post does not constitute legal advice. Claims about cannabinoids have not yet been approved by the food and drug administration FDA. Read the full legal disclaimer here.
FAQs On Delta-8 In West Virginia
Is Delta 8 Legal in all 50 states?
No. The federal government declared Delta 8 THC is legal thanks to the Hemp Farming Act (Farm Bill of 2018), but not all states carry the same laws on hemp-derived products. State laws are constantly changing, so stay updated on whether Delta 8 THC is fully legal, and what the possession limits are in any State you are visiting or living in.
Can I get a positive drug test for Delta 8 THC?
Yes. As THC compound Delta-8 THC will show on drug tests.
Can Delta-8 help with pain?
Yes! Studies show that Delta-8 can help manage chronic pain and inflammation thanks to its pain-killer and anti-inflammatory properties.
What is the legal age to buy Delta-8?
Most states only allow individuals of 21+ years to buy hemp products.