There is growing support for legalizing adult recreational use of marijuana and expanding the state's medical cannabis program. There is also talk of changing the state's laws to allow for the personal cultivation of up to four plants. All of this suggests that Virginia marijuana legalization is moving in a more progressive direction regarding its approach to marijuana. This is great news for Virginia!
Let's discover what Virginia's legalization is and find out if you can count on recreational to be available.
Main Key Points
Virginia decriminalized marijuana possession in July 2021.
The Virginia Board of Pharmacy oversees the disbursement of medical cannabis in the state.
If you have a valid medical reason for using cannabis, you can purchase it from a dispensary with a medical card.
Retail sales of marijuana are still illegal in Virginia.
If you are qualified for a medical card, you can possess up to 4 ounces of marijuana.

Virginia Decriminalization of Possession of Marijuana
In 2021, Virginia decriminalized marijuana possession to create a more fair and productive criminal justice system. The law has been a smashing success, with almost no reported cases of abuse or violation so far!
So far, decriminalization has led to decreased arrests for marijuana-related offenses and has allowed for the establishment of a regulated medical marijuana program.
And while decriminalization has been a step in the right direction, Virginia laws still criminalize personal farming of marijuana plants and possession of amounts of over four ounces.
What Is The Medical Cannabis Law?
The medical cannabis law and Virginia marijuana legalization decriminalizes the possession of marijuana for medical purposes. The system established by this legislation is a legal distribution network, ensuring patients have access to their prescribed medication without hassle or difficulty when needed.
The Medical Cannabis Law allows patients with a valid doctor's recommendation to possess up to four ounces of cannabis for personal use. The Local authorities must follow the federal law Controlled Substances Act against people in compliance with this law, meaning that you can carry as much or little marijuana around without fear. As long it remains within your boundaries!
The Virginia Board of Pharmacy oversees the distribution and cultivation of medical cannabis in their state. They issue licenses to dispensaries, which can then provide patients with prescriptions from doctors recommending its use; however, there are currently no regulations on personal grow.
What Conditions Qualify For Medical Marijuana?
Qualifying conditions for medical cannabis vary by state but typically include illnesses like cancer, chronic pain, Crohn's disease, and Alzheimer's disease. However, certain mental health conditions like PTSD and anxiety disorders in some states also qualify a patient for medical marijuana.
To find out if your illness qualifies you for medical cannabis in your state, consult your state's list of qualifying conditions. If you don't see your medical condition on the list, don't despair—in some states, patients can petition to have their condition added to the list of qualifying conditions.
To get a medical cannabis card, you must obtain a recommendation from your state's licensed doctor.
The moment you get the approval from the authorities in the state/region you are in, you can get as much as you need, and as long you have the MMH card, you can easily purchase marijuana anywhere you go, as long you are within the state's borders.
Want to buy Marijuana? You Need A Medical Marijuana Card!
With your medical marijuana card in hand, you can now visit a dispensary and purchase the cannabis products that you need. Remember, however, that each state has laws governing how much cannabis you can possess at any time.
Get familiar with your state's regulations before purchasing any cannabis products.
With the recent law, qualifying patients can possess up to four ounces of marijuana but may not exceed the amount specified by their physician. And the same goes for any caregivers; you can possess up to four ounces of marijuana as long you comply with the limits set by your physician.
If a primary caregiver possesses more than the limit, they may be subject to a civil penalty. However, retail sales of marijuana are still illegal, and individuals that are caught trying to sell marijuana may face criminal penalties.
Do I Need a Medical Card to Purchase at a Dispensary in Virginia?
You may wonder if you need a medical card to purchase cannabis at a dispensary in Virginia. The answer is: it depends. Medical marijuana is legal in Virginia but not for recreation.
The state has decriminalized possession of small amounts and passed a law allowing those with valid medical reasons to use it; you can purchase cannabis from dispensaries on your card as long no record would indicate abuse or addiction problems.
The Virginia marijuana legalization now says you do not get any charges when you carry smaller amounts of marijuana.
The best way to avoid any legal trouble is to check with your state and local governments to find out their policy on marijuana possess and to make sure that you comply with the marijuana laws of your state.
What Is The Virginia Cannabis Control Authority?
As part of the legislative package back in June 2014, Virginia approved the introduction of the Virginia Cannabis Control Authority.
The Virginia Cannabis Control Authority (VCCA) is a state agency in the Commonwealth of Virginia that regulates the cannabis industry.
It was created by the Cannabis Control Act, passed by the Virginia General Assembly in 2020.
The VCCA is responsible for issuing licenses to cannabis businesses, enforcing cannabis laws, and collecting taxes from the sale of cannabis.
The VCCA is overseen by a nine-member Board of Directors, which the Governor of Virginia appoints. The Board of Directors appoints an Executive Director responsible for the agency's day-to-day operations.

There are 3 three licenses: cultivator, processor, and dispensary.
Cultivator licenses allow businesses to grow cannabis plants.
Processor licenses enable firms to process cannabis into products such as edibles and oils.
Dispensary licenses allow dispensaries to sell marijuana to customers.

The VCCA also regulates the labeling and advertising of cannabis products and sets limits on the amount of THC in a product. The agency also sets limits on the number of cannabis plants that can be grown by a cultivator and on the amount an individual possess marijuana.
Will Virginia Legalize Adult Recreational Marijuana?
As more states start legalizing adult cannabis for medical and recreational use, the pressure is mounting on Virginia to follow suit. While the state has made some progress in recent years to decriminalize simple marijuana possession in small amounts, full legalization remains elusive.
There are several reasons why Virginia marijuana legalization has been slow to allow marijuana for personal use.
The state has a large number of conservative lawmakers who remain opposed to any marijuana law reform. Additionally, because Virginia is classified as a "controlled substance" state by the federal government, it is subject to stricter regulations than states where marijuana is legal.

However, many Virginia lawmakers also support legalization, and the tide may be turning in favor of reform. In 2019, proposed legislation to legalize adult use of recreational marijuana was narrowly defeated in the Virginia House of Delegates. The bill maintains bipartisan support, and it likely would have passed if it had not been for the opposition of the state's Board of Pharmacy.
Still, the close vote was seen as a positive sign by legalization proponents, and they will likely revisit the issue soon. In the meantime, citizens can continue to support marijuana law reform by contacting Virginia legislators and urging them to vote in favor of legalization.
Tax revenue from the sale of marijuana can be used to fund public programs, such as education or drug prevention. It can also help those negatively affected by marijuana prohibition, such as people with previous nonviolent marijuana-related convictions.
The Marijuana Moment website is a good resource for keeping up with the latest news on marijuana.
Can You Grow Your Own Marijuana Plant in Virginia?
Marijuana reform has been sweeping the nation, and more states are legalizing adult use of recreational marijuana. Virginia might be next on this list! So what does it mean for you? Can you grow marijuana plants in YOUR state if they're legal where YOU live?!
The answer to whether or not you can grow your own marijuana plant is complicated. The proposed legislation would legalize recreational use, but it won't allow people the right of personal growth- instead, they'll be able to regulate sales through licensed dispensaries in this state that have been passed by voters as well!
However, there is a chance that some cities and counties in Virginia could opt out of the retail dispensary system. This means individuals could grow marijuana plants for personal use if they wish- just not on public display or sale!
It's important to know that whether or not you can grow your marijuana plant in Virginia will also depend on the final legislation passed by General Assembly. We'll have to wait and see what kind of law we're dealing with before making any decisions about moving forward!
If you're caught with a marijuana plant in Virginia, the penalties will be $500 for your first offense. It would probably be best to wait until the marijuana laws are more straightforward before starting your own grow!
Where Can I Buy Cannabis and What Are My Options?
You can get a medical card, go to a dispensary, and get your medical cannabis. You now wait for Virginia law to relax and legalize recreational marijuana for personal use. But why do that when you can order online?
BiowellnessX offers various legal CBD and low-dose THC products that adhere to the Farm Bill regulations. Our products don't leave a skunky smell on you; they taste delicious. And even better, they are all fully legal in Virginia. If you want that buzz or assistance that marijuana is known for, you can still find relief from our various hemp-derived THC products.
Check out our website; you won't be sorry!
And as always, check with your local law enforcement for updated marijuana federal law.
Final Thoughts
So there you have it, Virginia. The laws around marijuana are changing, and while it is still illegal to consume or possess marijuana in more significant amounts, things are slowly starting to change. If you're thinking about lighting up a doobie (or even just holding one), it's essential to know the consequences. Stay safe and legal by staying informed!
For now, if you cannot get a medical card, hemp-derived THC might be your go-to.
Check our dispensary-grade organic THC Gummies here.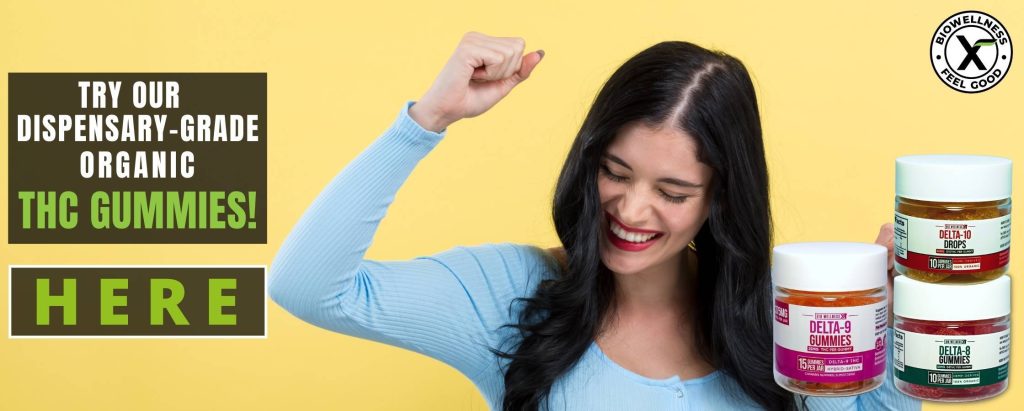 Remember to follow us on our networking platforms:
Facebook: @Biowellnessxinc
Instagram: @Biowellnessx_inc
Pinterest: @Biowellnessx
References:
LEGAL DISCLAIMER
By reading this legal information, you agree to release the author of any liability related to or arising from your use of this data. This post contains no legal advice. The legal status surrounding Delta 8 THC, Delta 9 THC, and Delta 10 THC is new and constantly changing. We continuously work hard to do our best to give you the most updated information. We recommend checking your current state's laws for marijuana or federal hemp laws before purchasing any medical cannabis products or industrial hemp-derived (CBD, THC). Do your due diligence and seek your doctor's advice, especially if you are in doubt or are currently taking any prescription medications. Safer than sorry is always a great idea when consuming new products.
Frequently Asked Questions
Can you drive a motor vehicle while using marijuana?
You should never drive a motor vehicle while under the influence of marijuana. There's a substantial risk to public safety, and your driver's license can be suspended if caught by law enforcement.
How old can you be to purchase weed?
People younger than 21 cannot purchase weed, CBD, or THC products.
What are the medical conditions that qualify for medical cannabis in Virginia?
Medical marijuana has been approved to treat many medical conditions, including PTSD, anxiety, cancer, chronic pain, epilepsy, glaucoma, cancer, and if prescribed.