Is weed legal in North Carolina? This is a question that many have been asking recently and for good reason. The status of marijuana legality in the Tarheel State is slightly confusing, to say the least. In this post, we'll explain exactly what you need to know about weed in North Carolina.
So, if you've ever wondered whether or not it's legal to smoke marijuana in North Carolina, keep reading! We'll clear everything up for you, plus there's a nice little surprise at the end of the post.
Main Key Points
Recreational marijuana is illegal in North Carolina.
If passed, The Compassionate Care Act would allow for the cultivation and sale of medical marijuana by state-licensed dispensaries.
North Carolina is one step closer to legalizing medical marijuana.
Hemp is legal in North Carolina as long as it doesn't surpass 0.03% THC.
You can find some of the best hemp products in NC.
Did North Carolina Legalize Weed?
As of now, No! But the future of marijuana in North Carolina is bright. The legislation pending to legalize and regulate its use, possession, or retail sale for adults has created quite a stir since it was announced in 2022.
Many think that legalization will help improve our country's reputation when dealing with drug abuse while giving them more freedom than they currently have on their own without any restrictions.
The bill (SB765), if passed in its current form, would allow adults to possess no more than two ounces of marijuana or an equivalent amount for personal use and grow a total of 4 plants. They also have the option to share cannabis with others.
More than half of North Carolina voters (54%) support the legislation on recreational marijuana, so who knows, maybe the state is getting close to opening the doors. We'll keep a close eye on North Carolina as we might see it pushed through sooner than later.
Curious what the current situation is in other states? Check our guide!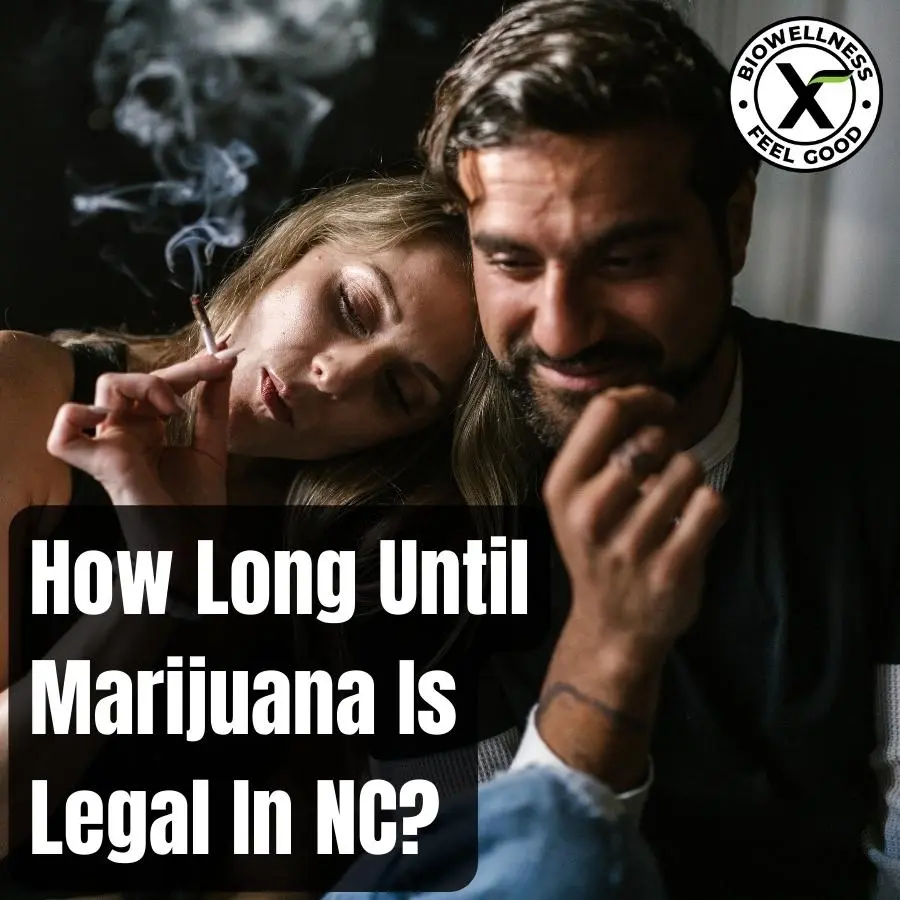 So how long do you have to wait until Marijuana is legal in NC?
It's no secret that marijuana laws rapidly change across the United States. Several states have legalized recreational use in just a few years, and many more have decriminalized possession or approved medical use. So, where does North Carolina stand on marijuana?
The possession of any amount of recreational marijuana is a criminal offense in North Carolina.
In 2015, the state Senate passed a bill that would have made possession of up to one ounce of marijuana a misdemeanor offense punishable by a maximum fine of $200. The bill also would have created a system of up to four dispensaries to sell cannabis-infused products to patients with debilitating medical conditions. But, the bill didn't make it out of committee in the state House of Representatives and did not become law.
The North Carolina Senate introduced another bill in 2017 that would decriminalize the possession of up to one ounce of cannabis and make personal use possession punishable by a maximum fine of $200. That bill also would have established a system of up to four dispensaries to sell cannabis-infused products to patients with debilitating medical conditions.
But, as with the other, the bill didn't make it out of committee either and did not become law.
Possession is still a criminal offense.
And there are no plans to change that anytime soon. Even though another bill is pending in the state Senate, we can only hope this time around its being voted in as it could pave the way for future changes to North Carolina's marijuana laws. Only time will until marijuana is fully legal in North Carolina.
Industrial hemp is now fully legalized, including all its derivatives and isomers. It was a huge step in the right direction to allow its residents to still enjoy the benefits of THC.
Medical Marijuana Legalization in NC!
In NC, medical marijuana is not currently legal. However, in the recent bill 448, the North Carolina senate voted in favor, which will now only legalize medical marijuana if it's an FDA-approved prescription drug containing marijuana.
That means the state might have to wait for a longer period until that happens, as the FDA has only approved a few so far.
That means the medicinal marijuana legalization for qualified patients who suffer from post-traumatic stress disorder and similar conditions will have to wait a little wee'd longer.
With that in mind, hemp-derived THC offers many of the same benefits as medical marijuana, known for its high THC content.
Marijuana Possession in NC, What Are The Penalties?
Marijuana laws in North Carolina: what you need to know!
If caught with .5 ounces or less of marijuana, it's a Class 1 misdemeanor. The fines can range from $200- or 30-days jail time or both.
If caught with .5 ounces to 1.5 ounces of marijuana, it's a Class 3 misdemeanor with a fine of up to $500- or 120-days jail time or both.
If caught with more than 1.5 ounces or more of marijuana, it's a Class 1 felony with up to 1 year of jail time.
A repeated offense, if convicted, with more than half ounces is also a Class 1 felony.
Now Marijuana is Illegal; Hemp is Legal, Which You Should Be Excited About!
According to state laws, hemp has been removed from the North Carolina Controlled Substances List and was recently finally put into law, officially. There is one main point; North Carolina state law defines legal industrial hemp as a THC substance containing no more than 0.3% Delta 9 THC.
Hemp and marijuana are both considered Cannabis, but each substance has its unique differences. Marijuana is still illegal in the US; it has more THC, which leads to a psychoactive effect when smoked or ingested. By contrast, hemp contains less than 0.3% THC, meaning there's no potential for producing any known mind-altering effects, like paranoia or anxiety.
However, that is only true to an extent, and here's why.
Today we have various THCs that have been produced using hemp-derived material. So even though the max Delta 9 THC is 0.30% for hemp to be legal, you are allowed to buy products that have more than 0.30% of the rest of the Deltas… And that's the gift from NC to all who live or travel there.

So Where to Buy Legal Hemp-Derived THC In North Carolina?
There are many places where you can buy hemp-derived THC in North Carolina, but only a handful that's worth dealing with.
What many often stir to is still online, and to make it easy for you, here's a short bio of who we are, along with some of our best-selling products that have already helped many people.
BiowellnessX is an online company, and we have built our trust in the markets since 2016, serving people in every state and selling a vast selection of premium CBD and THC products that suit your needs.
Our Knockout Delta 8 Gummies are F-I-R-E; these little guys just hit differently.
They are relaxing, so we recommend you take these in the evening to help you unwind from a hard day's work.
Another fan favorite is our Delta 8 Gummies; these come in yummy flavors like Green Apple, Blue Razz, Mixed Berry, Cherry, and Lemon.
They also come in 10mg, 25 mg, and 50 mg doses.
*Please advise your healthcare physicians before beginning any new supplement regimen.
Check out our website, BiowellnessX, call us (747) 236-6616, or find us on any of our social networking platforms:
We know that some don't have internet (yes, even though it's a few, still many without,) can't navigate a computer, or just simply want to get out of the house; that's perfectly fine, there are no rules on how to buy your products.
If you are in or near any of the below cities, you can freely go out and find many places. But as we mentioned earlier, just do your due diligence.
What THC Products Are Available to Me?
Many options are available to suit your needs: smoking, vaping, siping, chewing, and everything in between! Here are a few you can expect to find out there in the smokies.
Delta 8 Soft Gels
Delta 8 Hemp Cigarettes
Organic Delta 8 Gummies
Vegan THC Gummies (2-packs on the go)
Delta 8 Tincture with Full-Spectrum PCR Hemp Oil
D8 Hemp Flower
Delta 8 Disposable Vapes, Vape Products, and Vape Accessories
Final Thoughts – Is Weed Legal In North Carolina
So, while we all wait for marijuana to be fully legalized in North Carolina, you can check out BiowellnessX and our wide variety of legal hemp-derived products. As you can see throughout this article, we have various CBD and THC products that fit most needs.
Thanks for reading, and don't forget to check us out!
Want weed in NC? This is the closest legal solution you can get. Order today >>
Legal Disclaimer:
By reading this information presented, you agree to release the author of any liability that comes from using this data. This post contains no legal advice. Claims about cannabinoids have not yet been approved by the FDA. Read the full legal disclaimer here.
Interested in learning more about the legalities for Delta 8 THC and Delta 10 THC or THCA? Click on either of the below articles for a full breakdown:
If you live in South Carolina, you can read the latest legalities below:
References:
NC Marijuana Legalization- North Carolina: Marijuana Legalization Effort – NORML
Senate Bill 765- Senate Bill 765 (2021-2022 Session) – North Carolina General Assembly (ncleg.gov)
Marijuana possession in North Carolina- Possession & Distribution of Marijuana Laws in NC – Charges & Penalties in Raleigh (hatchlittlebunn.com)
NC Compassionate Care Act- Summary of SB 711 – North Carolina Compassionate Care Act 2021 (mpp.org)
Medical Marijuana Bill- NC S711 | BillTrack50
North Carolina Hemp Law- North Carolina State Hemp Laws and Hemp Farming Legislation – Vote Hemp
https://www.carolinajournal.com/n-c-gov-cooper-signs-three-bills-into-law-including-one-allowing-fda-approved-thc-medications/
FAQs About Weed
How would I know if medical cannabis is legal in my state or country, for that matter?
You should always check your local city and state laws for updated cannabis info. Things change all the time. You can also check the law and rules of the country you live in or plan to visit; it's always a good idea to do so because you don't want to get into trouble with the law.
Does NC have a medical cannabis program?
Lawmakers are working on a legalized medical cannabis program called the Compassionate Care Act. Hopefully, it can be available soon; it will help many people with cancer and other debilitating conditions.
Can I order hemp products online?
Yes, you can! We will deliver the products to your front door, so you never have to leave your house.
Can I take cannabis while nursing?
Never take any CBD or THC products while pregnant or nursing. You can harm the baby for sure.
What is the legal age to buy any hemp-derived products?
Most states require you to be 21 to buy any cannabis products.