Tennessee updated its hemp laws in 2019 to mimic the farm bill definition of hemp and removed it from the controlled substance schedules I list. The new state legislation also makes a specific exemption for Delta 8 THC, which we'll break down in this post.
Continue reading to ensure you know all the regulations, and see if Delta 8 is legal in Tennessee before you adventure into this THC compound.
Main Keypoints:
Delta 8 THC is legal in Tennessee, meaning hemp and its derivatives are lawful.
With the passage of the Farm Bill, Delta 8 has been made available to purchase online and via local dispensaries.
The state only restricts the amount of Delta 9 THC present in the finished goods.
Synthetically derived tetrahydrocannabinols are considered a controlled substance.

Is Delta 8 THC Legal in Tennessee?
Yes, it is!
Delta 8 THC is legal in Tennessee, thanks to the bill HB 357 that was passed back in 2019.
Keep reading to get a breakdown of the legalities in the state.
What Is Delta 8 THC? Can You Get The Relief You Seek?
Delta 8 THC is a plant cannabis Sativa compound (also known as the hemp plant) that became favorable because it shares some of the same properties as its famous cousin Delta 9 THC. The hemp plant contains trace amounts but not enough for extraction and conversion into Delta 8 THC. Therefore, manufacturers must isolate CBD from legal hemp material, which means most Delta 8 products you can find on the market today are converted from this one component, cannabidiol (CBD).
While Delta 9 THC is known for its psychoactive effects, Delta 8 THC has a lower potency that can produce similar results but with minor side effects. Research shows it also binds to the body's endocannabinoid system like other hemp-derived cannabinoids do, which means it can cause mild intoxication without that intense high known from marijuana.
Delta 8 THC has been shown to produce a happy and relaxing body high while assisting with discomfort. Unlike Delta 9, which is known to cause effects like anxiety or paranoia when consumed at larger doses, Delta 8 seldom does not. Its works as an indica, and many report its sleep aid properties can make a difference without being too sedative!
Want a deep dive into this compound, check our guide for beginners here.
Tennessee State Law and The Legalities of Delta 8 THC
Hemp and its derivatives are legalized on the federal level, but not every state agrees with that decision so far.
The Agricultural Improvement Act (Farm Bill) made Delta 8 THC available to purchase nationwide as long it comes from legal hemp plants with less than 0.3% Delta 9 THC on a dry weight basis. This compound does not fall under any controlled substances when conditions are managed.
It's easy to get your hands on some legal hemp-derived cannabinoids! As explained above, Tennessee state law only restricts the amount of Delta 9 THC present, which means you can find products everywhere and online.
State Law: The laws surrounding Delta 8 THC in Tennessee are pretty lenient, which is excellent news for those who enjoy its benefits. This cannabinoid can be purchased and consumed without any fear of legal repercussions, making it a perfect choice for those who want to bask in its benefits without worrying about getting in trouble.
Medical Marijuana Laws
As of now, medical marijuana is NOT legal in Tennessee. The only qualifying condition as of now is seizure patients. Legislation is trying to pass a bill for other conditions, so time will tell.
Where To Buy Delta 8 In Tennessee?
The good news: Delta 8 THC has been around for a while now, so you should be able to find some reviews on the product and the company that you purchase from.
Even though Delta 8 THC is federally legal and sold in local CBD shops, it's vital to request lab results to ensure that the material has been grown and tested according to federal laws for safety before buying any hemp-derived products.
Buying from reputable brands like BiowellnessX is a way to ensure that your hemp products are safe and organic, but they come with the bonus of being made in America. We have all lab results available on our website so that customers can see exactly what is going into their products before buying them!
You can find various blends of THC and CBD products. We also have many delicious flavors of gummies and potencies offered in 10mg and up to 100mg to satisfy everyone's needs.
There are many benefits when you buy Delta 8 products online in Tennessee. Buying from the comfort and safety of your own home, you can rest easy knowing that if there's an issue with delivery or product authenticity, then we'll be right behind you every step along the way!
And best of all, you can always email and call us directly with any questions you might have.

Listed Below Are Cities With local Dispensaries And Retail Stores So You Can Pop In And Do Some In-Person Shopping.
Memphis
Knoxville
Chattanooga
Clarksville
Murfreesboro
Franklin
Jackson
Johnson City
Bartlett

Shopping online is still one of the best ways to get your hemp products.
If you decide to buy from convenience stores or gas stations, pay attention to the label and ask for any lab reports to confirm what's in the product.
Besides online, you can get your Delta 8 THC and even Delta 10 THC products and all other cannabinoids from a local smoke shop or cannabis dispensary.
Federal Law and Delta 8 THC
Delta 8 THC is synthetically made through a chemical process to convert hemp-derived CBD into Delta 8 THC. The conversion raises legal concerns because it's not always clear which side of the equation it's on when producing a compound with euphoric effects.
The Drug Enforcement Agency released an Interim Final Rule, which means that all synthetically derived THC will now be considered Schedule I controlled substances.
This doesn't mean it's illegal, but it's up to discussion whether states see it as unlawful. With the booming cannabis industry, we can only hope the rules will lessen over the years for more to enjoy THC without worrying if they get into any legal issues.
What's The Best Delta 8 THC Product For Anxiety?
As far as the best Delta 8 product for managing anxiety, that's really up to the consumer. We recommend Delta 8 gummies, as they can come in various potencies and are easy to dose. Delta 8 vapes are another popular choice, as the effects typically hit faster but fade more quickly.
Delta 8 THC gummies, on the other hand, take anywhere from 30 minutes to 2 hours to kick in but can last for up to 7-8 hours. So, for those looking to use Delta 8 for sleep, gummies may also be your best bet since it stays in your system longer.
Other popular hemp products include oil tinctures, soft gels, edibles, hemp cigarettes, and hemp flower.
When it comes to cannabis products, there are a few key things you should look out for, especially if your goal is to manage anxiety. Not every brand is as concerned with what's best for cannabis consumers as others.
Final Thoughts – Is Delta 8 THC Legal in Tennessee
So, there you have it. Hemp derivatives such as Delta 8 THC are legal in Tennessee. If you need hemp-derived cannabis products, we've got your back! As with all things cannabis, please use it responsibly and enjoy the many benefits. And remember, always know your source!
Try our best-selling 100mg Delta 8 gummies (Knockout Gummies) and feel the powerful effect of this legal compound!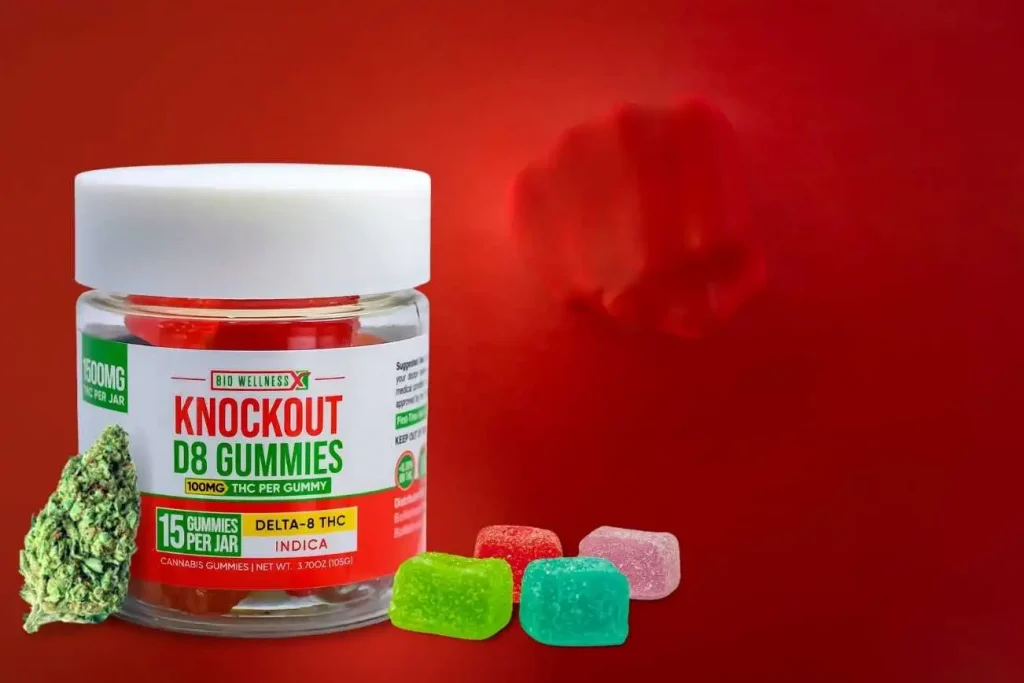 References:

Want to know more about Delta 8 THC, how it interacts with your body, and, even more important, how long it stays? Read more here.
LEGAL DISCLAIMER
By reading this legal information, you agree to release the author of any liability related to or arising from your use of this data. This post contains no legal advice. The legal status surrounding Delta 8 THC, Delta 9 THC & Delta 10 THC is new and constantly changing. We continuously work hard to do our best to give you the most updated information. We recommend that you always check your current state or federal law before purchasing any industrial hemp-derived products (CBD, THC) in Tennessee. The data in this post is not intended to diagnose, treat, cure or give any medical advice. In any event, do your due diligence and always consult your healthcare practitioner's advice, especially if you are in doubt or are currently taking any prescription medications. Safer than sorry is always a great idea when consuming new products.

FAQs About Delta 8 THC In Tennessee
What is the legal age to buy Delta 8?
Most retailers will not sell to you unless you are at least 21.
Is it legal in Tennessee to buy Delta 8 online?
The short answer is yes, only if you are in a hemp-friendly state. The federal law and the 2018 farm bill make this new compound legal nationwide.
Are there any adverse side effects with Delta 8 I should know about?
The studies on Delta 8 have shown that it is generally safe, but some users have reported feeling light-headed or having an increased heart rate and dry mouth after using this hemp product. THC, in general, can cause anxiety in some users, but you can avoid triggering anxiety from Delta 8 if you stay within the recommended dosage.
Will Delta 8 Get U High?
Yes, you can get a high from Delta 8, but it will not be as intense as a high you would get from Delta 9. So go ahead and enjoy this fantastic hemp-derived cannabinoid. 
Does each state have the same laws regarding cannabis?
No, each state is different and can set its state laws regarding cannabis. Always check your state laws beforehand to stay up to date.
How will I know a Delta 8 product is safe?
When shopping around for Delta 8 THC products, check for third-party lab testing, company reputation, customer reviews, return policies, customer services, price and value, and hemp source. A reputable brand should have nothing to hide. From hemp source to lab testing to customer reviews and product ingredients, all information should be available for you to view. 
Can I take Delta 8 when taking medication?
Always seek your doctor's advice before taking anything other than your medications.
Is Delta 8 legal in all 50 states?
Under current federal law, yes, it is legal. Each state can develop its regulations regarding hemp. Many states already have put a limit on what is allowed to be sold or not. According to the 2018 farm bill Delta 8 is legal nationwide.