On a search for Delta 8 in A-town? Not sure where to buy Delta 8 THC in Atlanta? Let us help you out!
This article will provide you with an up-to-date list of the best dispensaries in the city. Plus, you'll find additional information about Delta 8 THC and other traditional cannabis products, plus get an easy way to order online and get it shipped directly to your front door.
Keep reading to learn more about this fantastic cannabinoid and what it has to offer.
Main Keypoints
Delta 8 THC is widely available in Atlanta, Georgia.
Under federal law, Delta 8 is legal, but only if made from hemp plant material.
If approved for a medical marijuana card, you will be able to purchase marijuana from dispensaries in Atlanta, as well.
Recreational Marijuana is illegal in Georgia.
Shopping online might still be your best option to find premium Delta 8 THC products, the best assortment, and prices.
Where To Buy Delta 8 THC in Atlanta, Georgia?
If you're looking for high-quality Delta 8 THC, you will be happy to know that Delta 8 is widely available in Atlanta, Georgia.
You can find legal, hemp-derived cannabinoids like Delta 8 THC at one of the many local head shops you'll find around Atlanta.
When it comes to Delta 8 THC, you will see many seek this newer compound as it has that perfect balance of relief and relaxation. It's especially great for those who might be more sensitive to marijuana, don't want to get too high, but still want to reap all THC's benefits.
The market for legal products is growing at an alarming rate, with many people turning to Delta 8 and other hemp-derived cannabinoids to improve their lives, especially those with chronic pain. But what's really going on?
The answer begins by ensuring you're getting the real thing – don't let false labeling or undetectable impostors fool you! Your best bet for quality ingredients will come from a trusted source that displays COAs (certificates of analysis). Watch closely what the label says and what the COA shows.
Avoid gas stations if subpar Delta 8 product is not your thing!
The highest quality hemp products and gas stations don't go hand in hand! The products there might come cheap but so does the quality!
Your contentment is our top priority when you purchase from BiowellnessX. We seek excellence in everything we do and ensure customer loyalty with every transaction, so buy confidently!
You'll find a wide selection of THC and CBD products. We use 100% natural, organic & vegan ingredients for all our products to give you the highest quality possible each time.
That said if you don't mind crowds and want to have your hemp products in hand ASAP, time to get out the door and visit your local CBD, smoke, or vape shops.
If you are lucky, you might find one or two convenience stores that actually know their stuff. Here you will find products sold like traditional THC, CBD, and other hemp-derived cannabinoids.
Not sure which to go to, check the list below!

Local Shops Where You Can Buy Delta 8 THC In Atlanta, GA:
Delta Farmacy- 3355 Highway 9 N, Ste B, Alpharetta, GA 30004
Hemp World Dispensary – 4270 Atlanta Hwy #104, Loganville, GA 30052
World Piece – 1960 Cheshire Bridge Rd NE Atlanta, GA 30324
ATLRx CBD Atlanta- Multiple locations. Look them up to see which is closest to you.
The Pot Shop – 1166 B Euclid Ave NE Atlanta, GA 30307
Do your research, buy from a trusted company, and ask for lab reports to know what you're getting into.
Rather just order online, get 15% OFF, free shipping, and a 60-day money-back guarantee? Click here and shop premium Delta 8 THC products now >>
What is Delta 8 THC?
If you are still unsure what Delta 8 THC is, let's take a brief look. Delta 8 is a minor cannabinoid found in hemp plants. It only occurs in tiny amounts, which is why most convert CBD into THC using safe conversion techniques.
This increasingly popular compound comes with various health benefits, for example, discomfort, body aches, and feeling calm and relaxed, and can even help you find a deeper sleep.
Want to learn more about Delta 8 THC? Check our guide for beginners here.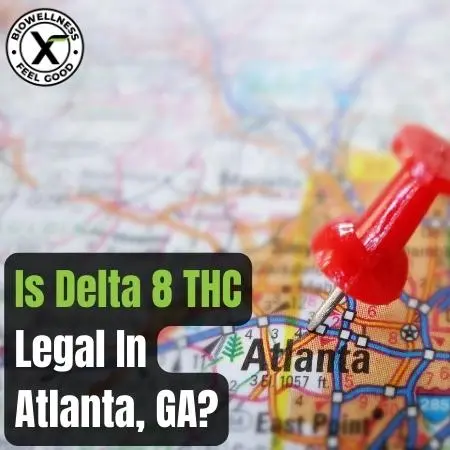 Delta 8 THC's Validity in Atlanta, GA
As we covered, Delta 8 THC is a hemp-derived cannabinoid that is closely related to THC.
Delta 8 THC has neuroprotective properties and is especially known for its lower psychotropic potency.
On a federal level, Delta 8 THC is legal thanks to the 2018 farm bill, which means it's also legal in Atlanta, Georgia.
However, it is important to note that the state legislation regarding Delta 8 THC and other hemp products is constantly changing, and what might be legal now could change shortly after.
It's suggested to check with your local laws before purchasing or consuming any hemp products. And remember, you must be 21 to purchase Delta 8 THC products in Atlanta.
What about Medical Marijuana in Atlanta, GA?
The legal status of marijuana in Atlanta is complex. First of all, recreational is a no-go! Marijuana is classified as a Schedule I drug under federal law and the Controlled Substances Act. This means that it is illegal to distribute, possess, or use marijuana in any form.
However, state legislation concerning marijuana is still evolving. The state has passed a law allowing CBD oil for specific medical ailments. And in 2019, Governor Brian Kemp signed a bill (HB324) into law that decriminalized the possession of small amounts of marijuana.
While the legal status of marijuana in Atlanta is still somewhat confusing, it is clear that the tide is changing.
With more states passing legislation to decriminalize or legalize marijuana, likely, that the federal government will eventually follow suit. Meanwhile, if you are considering using marijuana in any form, you must check your current local laws to ensure you are not breaking any regulations.
What about medical? Well, to get a medical card in Atlanta, you must go through the Georgia Department of Public Health. Sounds complicated? Maybe a little, but all you have to do is follow the below steps to be eligible for a card:
Your healthcare practitioner will need to diagnose you with a condition that is approved by the state of Georgia.
You will need to get statements from your doctor saying that you would benefit from using medical marijuana.
You must apply to the Georgia Dept. of Public Health.
If approved for a medical marijuana card, you will be able to purchase marijuana from dispensaries in Atlanta. You will also be able to grow your own marijuana if you choose to do so.
Thanks to the 2018 industrial hemp bill, you can enjoy Delta 8 THC and don't have to wait to get an MMJ card to enjoy all the benefits. See your options here.
S-a-f-e-t-y First
You might be wondering, is it safe for me to consume? Delta 8 THC products are an effective alternative to Delta 9 THC. But there is always risk involved when using a new product, especially for those who already have certain medical conditions!
First and foremost, make sure you're getting a Delta-8 product of the highest quality, and check the independent lab testing results of that product. Cheap products pose more risks than benefits.
As with anything else in life, read the label carefully, take the precise doses, and if you are NOT used to THC, take half of the recommended dose; if in doubt, consult with your physician before taking any, or if you're unsure how it will interact with other medications. Read more about the side effects of Delta-8 and how to avoid them.
Hemp products are not intended to diagnose, treat, cure, or prevent disease, but they are available to aid the body from pain and discomfort due to specific disorders.
So, What Kind of Delta 8 Products Can You Find in Atlanta, Georgia?
Atlanta has a fantastic selection of Delta 8 products, but it can be hard to find the perfect product.
If you're new to the hemp game or are just looking for something small to help calm your anxiety, there are many different hemp-derived cannabinoids on the market for you, or if you, like us, want the easy way and immediate access to premium organic and vegan products to a favorable price, check below list:
Delta 8 Gummies – 4 potencies.
Knockout Gummies – 100mg Delta 8 Per Gummy! Super Potent!
Delta-8 THC cookies
Delta 8 Soft Gels – 30mg per gel
Delta 8 Hemp Cigarettes – 1000mg Delta 8 Per Pack
Delta 8 Tincture PCR Oils – 2000mg per bottle
Pre-rolls containing Delta 8 Hemp Flower
Delta 8 THC Vapes – 1000mg disposables
Final Thoughts
With that being said, we hope you are a little more knowledgeable about what to look out for when buying your Delta 8 products. Shop online, or go local – up to you! With the law being in your favor, you can freely enjoy these hemp-derived THC products. Remember to check the independent lab testing results or COAs of your hemp-derived products before buying.
Try some of our Delta-8 THC gummies. Not only do they taste great, but they're also super convenient and discreet!
As we mentioned before, the law is ever-changing, so check back with us for updates. For now, enjoy and have fun!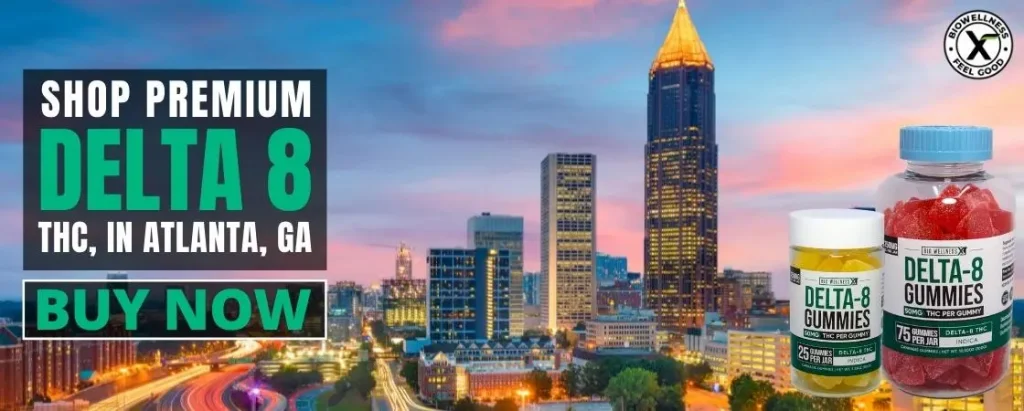 Check out our social media channels:
Facebook: @Biowellnessxinc
Instagram: @Biowellnessx_inc
Pinterest: @Biowellnessx
Legal Disclaimer:
By reading this information presented, you agree to release the author of any liability that comes from using this data. This post contains no legal advice. Claims about cannabinoids have not yet been approved by the FDA. Read the full legal disclaimer here.
Related Articles
References:
Frequently Asked Questions (FAQs)
Can I take Delta 8 THC while on medications?
In this case, your doctor's advice should be sought, especially if you have a severe medical condition. There can be many complications if you don't know what you are taking, what medical conditions you have, or if you are new to taking THC or CBD products and are on medications.
Can I take Delta 8 while breastfeeding?
You should never take any cannabis or hemp products while pregnant or nursing. The outcome could be tragic for your baby.
What is the legal age to purchase Delta 8?
You must be at least 21 to buy Delta 8 and any cannabis products.
Is Delta 8 legal in all of the states?
Though Delta 8 is technically "federally legal," Delta 8 is legal in most states; over a dozen states have banned the substance and all other hemp-derived cannabinoids. Stay current and check Georgia state law before purchasing your CBD and THC products.
Can I order Delta 8 online?
You sure can. Countless online stores offer all kinds of Delta 8 products. You can also check out BioWellnessX's wide range of premium legal Delta 8 products. Always verify your local laws before buying any hemp-derived THC and CBD products. Hemp laws change often.
Is Delta 8 THC the same as THC?
Yes is the short answer. THC has, up until now, been categorized as Delta 9 THC. Both are THC compounds; however, there is a difference in the molecule level, how it interacts with your body, and how it feels. Delta 9 THC is seen as a Sativa, whereas Delta 8 THC works just as an Indica. Both THCs come from the Cannabis plants.
Can vape shops sell Delta 8 in Atlanta?
Yup, they can sell Delta 8. You can see many products and other brands when you go in person. Just be cautious with the total amount of THC in them.